We are proud of our Reputation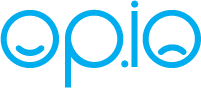 Parts and Accessories
Nelson Spark Arrestors
Designed for universal application with a minimum of restriction on the engine. They work well as add-on units to existing exhaust systems. Their light weight and small size reduce stress and vibration to the rest of the exhaust system. Typical applications include logging and construction equipment, agricultural machinery, over-the-road trucks, airport equipment, forestry and military vehicles.
All arrestors exceed U.S. Forestry requirements, and are qualified and tested for vertical and horizontal installations under the U.S. Forestry Service Standard 5100-1b.
All inlets are slotted tube connections. Outlets are O.D. tubing
CFM rating is based on a pressure drop of 1 PSI.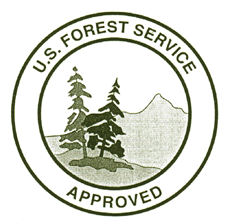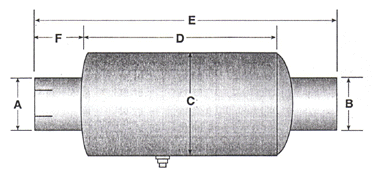 *for the best performances on cell phones, keep your device horizontally
| | | | | | | | |
| --- | --- | --- | --- | --- | --- | --- | --- |
| A (I.D.) | B (O.D.) | C | D | E | F | CFM Rating | Part Number |
| 1.05" | 1.25" | 4.24 | 3.20 | 5.90 | 1.30 | 80 | 4911OU |
| 1.50" | 1.50" | 4.24 | 3.10 | 5.90 | 1.40 | 165 | 49115U |
| 2.00" | 2.00" | 5.62 | 6.40 | 11.00 | 2.00 | 295 | 49120B |
| 2.50" | 2.63" | 5.62 | 8.60 | 12.80 | 2.00 | 450 | 49125A |
| 3.00" | 3.13" | 6.62 | 10.20 | 14.90 | 2.50 | 660 | 49130A |
| 3.50" | 3.63" | 7.62 | 12.00 | 17.60 | 3.00 | 900 | 49135A |
| 4.00" | 4.13" | 8.50 | 14.60 | 21.20 | 3.40 | 1180 | 49140A |
| 5.00" | 5.13" | 9.62 | 16.00 | 24.00 | 4.00 | 1840 | 49150A |
| 6.00" | 6.13" | 12.12 | 22.00 | 27.00 | 2.00 | 2650 | 49160A |
We are proud of our Reputation